Family Arts Fest
Featuring Versa-Style Dance Company
Saturday, March 4, 2017 • 11 AM–3 PM • Versa Style Performance: Noon
Enjoy a family-friendly day of art, food, and fun, featuring face-painting, museum tours, backstage tours, an interactive dance party, and a free public performance by L.A.-based Versa-Style Dance Company—a dynamic troupe of some of the hippest street dancers in L.A. The energetic and uplifting show features hip-hop specialties like popping, locking, breaking, and house, along with salsa, West African, and merengue. Versa-Style Dance Company has some of the most committed and conscientious young artists in town, representing the diversity and beautiful complexity of Los Angeles; they aim to break down barriers of race and socio-economic backgrounds using dance to promote the freedom of expression, freedom of individuality, hard work, and self-discipline.
The day will also feature performances by the upbeat, danceable, and family-oriented Masanga Marimba, playing traditional and popular music from Africa and Latin America, and face-painting by Rainbow Painted Smiles. Pepperdine music and theatre students will perform popular musical renditions, opera, sketch comedy, improv games, and more.
The Weisman Museum features the exhibition Larry Bell: Pacific Red, which includes a new walk-through installation which explores the optical and reflective qualities of red glass.
TWO art projects will continue throughout the day: a big collaborative tree mural AND a take-home popsicle stick bird puppet!
Food trucks scheduled for the event include Roni Macaroni, Patty Wagon, The Surfer Taco, and more! Keep an eye on our Facebook Page for the latest updates.
Time
Smothers Theatre
Outdoor Stage
Weisman Museum
Gregg G. Juarez Courtyard
Parking Lot
11 a.m.

Backstage Tour

Masanga Marimba

Self-Guided Tours

Art Projects

Food Trucks

11:30 a.m.

Guided Tour

12 p.m.

Versa-Style Dance Company

Self-Guided Tours

12:30 p.m.

Face Painting & Art Projects

1 p.m.

Versa-Style's Interactive Dance Party

1:30 p.m.

Pepperdine Student Music Performance

2:00 p.m.

Backstage Tour

2:30 p.m.

Pepperdine Student Theatre Performance

Guided Tour
For directions to Pepperdine, visit our Plan Your Visit page here.
See below for details on parking and shuttle stops: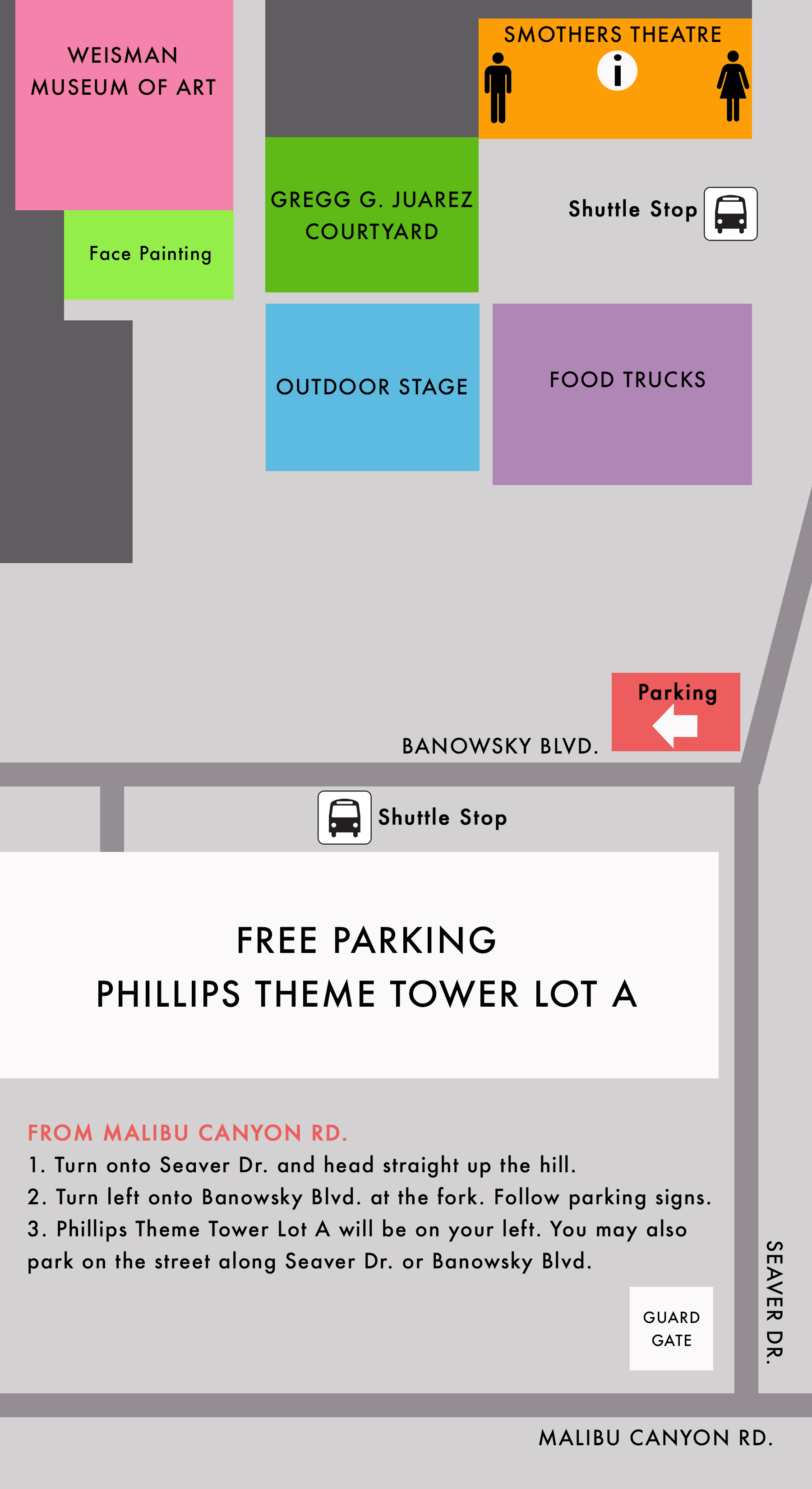 Date
Saturday, March 4, 2017 • 11 AM–3 PM • Versa Style Performance: Noon
Stop by the box office or check in table tomorrow from 11 AM to 3 PM. Call 310.506.4522 with any questions.
Venue
Smothers Theatre & Gregg G. Juarez Palm Courtyard
Contact Us
Box Office
Lisa Smith Wengler Center for the Arts
24255 Pacific Coast Highway
Malibu, CA 90263
Open Tuesday through Friday, noon to 5 PM,
and two hours prior to most performances.