Family Performances & Art Days
The Lisa Smith Wengler Center for the Arts brings some of the most exciting performances from around the world to children and families in Los Angeles.
From rollicking musicals to circus acts and dancers to favorite stories come to life, each year at the Center for the Arts offers something new and awe-inspiring – a great way to cultivate a love of the arts in young audiences.
Upcoming Family Performances & Art Days: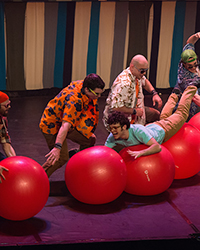 Flip FabriQue: Catch Me!
Internationally lauded for its technical ability and panache, Flip FabriQue's fast-paced, innovative circus show is a crowd-pleasing cirque sensation with "acts that don't seem humanly possible" and "an irrepressible spirit of fun" (The New York Times). From hula hoops to juggling to yoyos to trampo-walls to diabolos to aerial strap to banquine, the array of skill demonstrated by the troupe is nothing short of astounding. Established in 2011 by graduates of the Quebec City Circus School, Flip FabriQue's performers have worked with esteemed companies around the world, such as Cirque du Soleil and Cirque Éloize.
Tuesday, October 18, 2016
Performances: 7:30 p.m.

More info.
Goodnight Moon and The Runaway Bunny
Adapted from Margaret Wise Brown's sixty-year-old classic, Goodnight Moon is a celebration of familiar nighttime rituals, while The Runaway Bunny's pretend tale of leaving home evokes reassuring responses from his loving mum. Both feature the endearing animal puppets, stunning scenic effects, and evocative music that have earned international recognition for Mermaid Theatre.
Saturday, October 22, 2016
Performances: 11 a.m. and 1 p.m.
Family Art Day & Costume Sale: 10 a.m.–1 p.m.
This family art day is in partnership with The Big Draw LA!
---
Justin Roberts and The Not Ready for Naptime Players
Called the "Judy Blume of kiddie rock" (The New York Times), Grammy-nominated Justin Roberts and The Not Ready for Naptime Players dish out intelligent and whimsically-rocking music for kids and their parents.
Saturday, January 21, 2017
Performances: 11 a.m. and 1 p.m.
Family Art Day: 10 a.m.–1 p.m.
---
Family Arts Fest
Featuring Versa-Style Dance Company
Enjoy a family-friendly day of art, food, and fun, featuring face-painting, museum tours, backstage tours, dance lessons and a free public performance by L.A.-based Versa-Style Dance Company—a dynamic troupe of some of the hippest street dancers in L.A. The energetic and uplifting show features hip-hop specialties like popping, locking, breaking, and house, along with salsa, West African, and merengue.
Saturday, March 4, 2017 • 11 a.m.–3 p.m.
Versa Style Performance: Noon
---
What You Get When You visit:
In addition to the high-quality, professional performances, a visit to the Center for the Arts offers many ways for children to engage in the arts:
Family Art Days
Enjoy hands-on art activities with multiple projects designed for children of all ages before and after the show.
Meet and Greet
Meet with the performers in the lobby after most shows.
Free Museum Tours
Experience personal tours of the Frederick R. Weisman Museum of Art (free admission).
Free Backstage Tours
Explore behind-the-scenes with backstage tours by Center for the Arts staff.
Explore Pepperdine
Enjoy beautiful courtyards, amazing views, and rolling lawns while discovering our incredible compus community.
Explore Malibu
After your visit, spend a day in Malibu by visiting the beach, Malibu Pier, and the Getty Villa.
Not all of these activities will be available at every performance. Some activities will have limited availability, and programming is subject to change at any time. Call the box office at 310.506.4522 for more information.