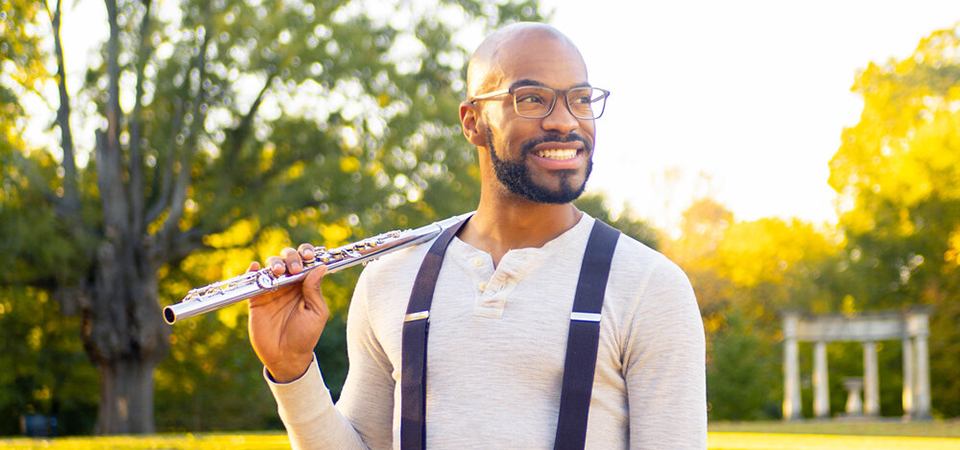 Adam W. Sadberry, flute
Sunday, March 5, 2023 • 2 PM
Part of the Recital Series
Memphis Symphony Orchestra acting principal flutist Adam W. Sadberry is known for his radiant, lyrical playing. He's committed to expanding the Black diaspora in the classical music world through promoting equity, representation, music education, and commissioning music that tells stories of the Black experience. Sadberry's work is further motivated by his desire to continue the legacy of his late grandfather L. Alex Wilson, an important journalist and unsung hero of the civil rights movement. adamsadberry.com
Adam W. Sadberry will be joined on piano by Nathan Cheung, nathancheungmusic.com/
REPERTOIRE
Katherine Hoover (1937-2018) - Winter Spirits (1997), 6'

Valerie Coleman (1970-) - Wish (2015), 13'

William Grant Still (1895-1987) - Mother and Child (1943), 7'

- Intermission -

J.S. Bach (1685-1750) - Partita in A minor, BWV 1013 (1723), 17'
I. Allemande
II. Corrente
III. Sarabande
IV. Bourrée-Anglois

César Franck (1822-1890) - Sonata for piano and flute (1886), 29'
I. Allegretto ben moderato
II. Allegro
III. Recitativo-Fantasia: Ben moderato
IV. Allegretto poco mosso

William Grant Still (1895-1978) - Summerland (1934), 4'
Click here to download the program.
Date
Sunday, March 5, 2023 • 2 PM
Tickets
$28
Save 20% on the Recital Series: $88 for all four performances. Call 310.506.4522 .
Contact Us
Box Office
Lisa Smith Wengler Center for the Arts
24255 Pacific Coast Highway
Malibu, CA 90263
Open Tuesday through Friday, noon to 5 PM,
and two hours prior to most performances.