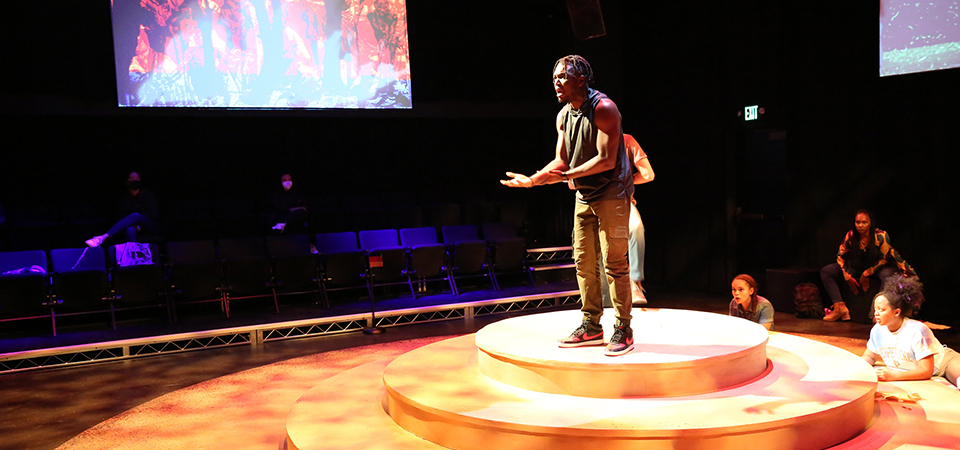 Americana: A Murder Ballad
presented by Pepperdine Theatre Department
Wednesday, April 5–Friday, April 7 • 7:30PM & Saturday, April 8, 2023 • 2PM
By Morna Young
Cathy Thomas-Grant, Director
"Americana is a place of dreams/ And our young protagonists could embody this hope/ Though soon their fates will be in dire straits/ Imprisoned to the ethereal land of folk . . ."
A nation's youth are trapped in a murder ballad they cannot escape. A gunman lurks on every corner. He's behind you. He's beside you. He's inside your mind. This is freedom. This is a war zone. This is Americana. But how do we break the ballad? Fresh from the Edinburgh Festival Fringe of 2022, winners of multiple Fringe First awards Pepperdine Scotland makes new music from old songs in this perpetual story of fear. While neither prop guns nor the sound of guns is used in this play, this is a story about gun violence in schools. This play also contains profanity. Recommended for ages 16+.
Join a talk back with the actors and director after the Wednesday, April 5 performance.
Special thanks to our Friends of the Theatre members for supporting this production. To learn more about Friends of the Theatre and unique member benefits, click here.
Date
Wednesday, April 5–Friday, April 7 • 7:30PM & Saturday, April 8, 2023 • 2PM
Tickets
$15
Just $48 for all four Theatre Department Series performances. Call 310.506.4522.
Contact Us
Box Office
Lisa Smith Wengler Center for the Arts
24255 Pacific Coast Highway
Malibu, CA 90263
Open Tuesday through Friday, noon to 5 PM,
and two hours prior to most performances.