Staff Profiles – Paul Vacchiano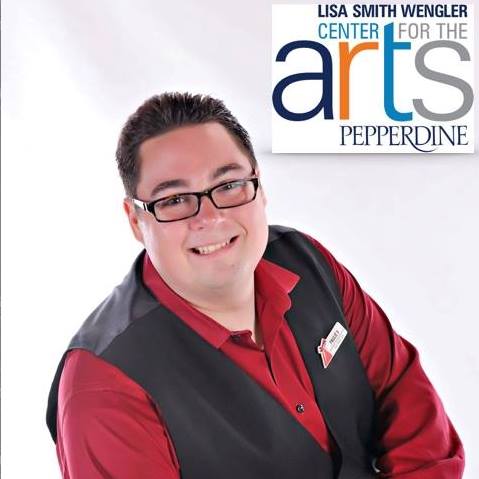 This week our staff spotlight is on the Theater Operations Manager for the Center for the Arts, Paul Vacchiano. Be sure to check out his customized playlist below his profile!
How long have you worked at Center for the Arts?
About 2.5 years (Started in October of 2017)
Please provide a short description of the responsibilities of your position.
I oversee the Front-Of-House operations which includes the Box Office and Usher Staff, Concessions, Parking, and Merchandise. This is one of my favorite parts of the position as it allows me to directly interact with the student employees and engage them in experiential learning. While many of the student workers do not wish to seek a future in the arts, the skills we teach them in these positions allow them to succeed in a variety of different fields. These skills include communication, time management, public relations, phone etiquette, problem solving, etc. I am also responsible for the Artist Hospitality for all of the presented artist that perform in our venues. This could be anything from transportation logistics, hotel accommodations, meal accommodations, or overall just making sure the artists feel welcomed in our home at Pepperdine. Finally, I oversee all of the rental events which includes both on campus groups such as the Pepperdine Fine Arts Department, Dance In Flight, Songfest, ReelStories, etc. as well as off campus groups such as local dance companies, seminar leaders, musicians, theatre companies, summer camp groups, etc. This is another way that allows the Center for the Arts to become the "front porch" of the University, welcoming community members from the surrounding areas.
Please describe your arts background (education, prior arts-related jobs, etc.).
After attending a performing arts high school in New Jersey, I graduated from Rider University in Lawrenceville, NJ with a BA in Fine Arts and a BA in Arts Administration (both concentrating in Theatre). The Arts Administration program was one that I helped create at Rider University, which allowed me to write some of my own classes, hire professionals that I worked with in outside projects, and form a program which still exists and is going strong today. While studying both in high school in college I assisted in running a variety of touring music shows including a touring Rock-N-Roll A Cappella group that toured up and down the East Coast. This group allowed me to focus my skills both as a performer and as a touring professional in the entertainment industry. We performed at a variety of venues including the Charleston Music Hall, Sun National Bank Center, the Rockefeller Christmas Tree, and even Walt Disney World. We put out a variety of albums, including one that made it to the last round of nominations (prior to the final nominees) for the GRAMMY Awards. We also had the honor of opening for artists such as Sara Bareilles, Coby Callette, Gavin DeGraw, Southside Johnny, and many more.
Upon graduating from college I took a General Management/Company Management internship at McCarter Theatre in Princeton NJ. Upon the completion of the year long internship I started working at Carnival Cruise Line. I began as an Entertainment Host (which Carnival calls their Fun Squad) and quickly became an Assistant Cruise Director and then an Acting Cruise Director. In other words it was my job to make sure that each-and-every one of my guests had a fun and memorable vacation at a great value. I was proud to have worked for Carnival for about 5 years serving well over 1.5 million guests before turning in my stripes for a fantastic opportunity at Pepperdine.
What is your favorite artist/production/exhibition you've seen at Pepperdine?
This is a tough question as I have so many favorites for so many reasons. My favorite artist I was introduced to was the Derina Harvey Band—a Celtic Rock group from Newfoundland. Their music is truly inspiring and I recommend them to anyone needing a fun pick-me-up. Another group that I loved was We Banjo 3 for very similar reasons.
What is your favorite aspect of your job?
I am a people-person by nature so I would say I love interacting with people. Whether it be our artists, or our patrons that return show after show, these interactions remind me why I do what I do. I also love watching our student workers grow into young professionals.
Why do you think the arts are important? What value do they provide to the culture?
The arts is a door to opening up conversation and dialogue. When you leave a show you have conversations both with the people you attended that show with as well as an internal dialogue which allows for self-reflection. Sure, the arts is entertaining, but it is also so much more. It inspires you to be a better version of yourself. It allows you to learn and explore the fundamentals of what makes up the human behavior.
How have you been keeping yourself entertained during quarantine?
I am lucky enough to have a lot of artist friends. I find myself watching many "live from my living room" performances as well as looking back at some great clips that bring joy to my life. I also have been trying to catch up with people I have lost touch with over the years.
To learn more about the Center for the Arts staff members and for updates on our 2020–2021 season, please visit our website or follow us on Facebook, Instagram, and Twitter.