Staff Profiles – Rebecca Carson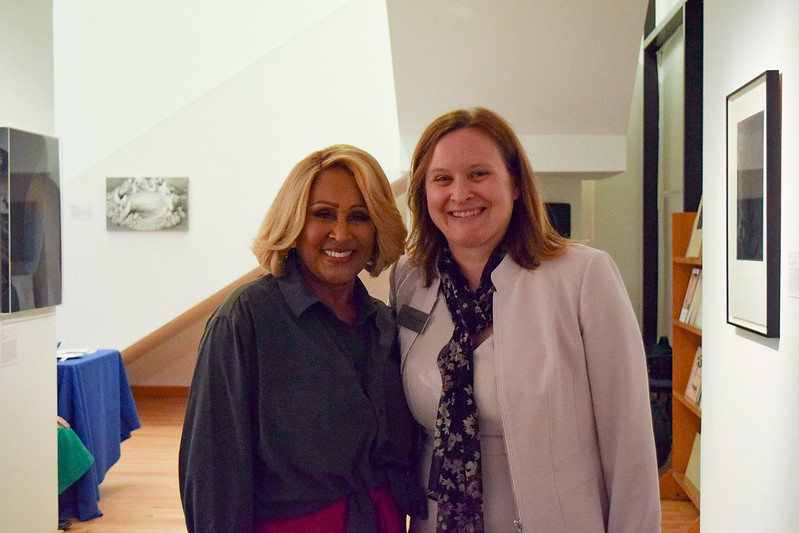 Rebecca Carson (right) pictured with singer Darlene Love, 2019
This week our staff spotlight is on the Managing Director for the Center for the Arts, Rebecca Carson. Be sure to check out her customized playlist below her profile!
How long have you worked at Center for the Arts?
13 years (I started October 2007).
Please provide a short description of the responsibilities of your position.
I supervise all activities at the Lisa Smith Wengler Center for the Arts at Pepperdine University. This includes selecting 30–40 presentations a year for performance in dance, music, and theatre, as well as speaking to patrons and donors about how to support the arts at Pepperdine.
Please describe your arts background (education, prior arts-related jobs, etc.).
–BA in Theatre – University of Wisconsin-Eau Claire
–MFA in Theatre Management – University of Maryland
–Production Manager and Director of Production for the Center of Creative Arts (COCA), St. Louis, MO
What is your favorite artist/production/exhibition you've seen at Pepperdine?
This question is impossible. I have so many fantastic memories from my many years at Pepperdine. Some of my favorite moments: Tom Petty joined Roger McGuinn at an encore for Roger's first performance at Pepperdine in 2009. The Campbell Brothers performed a powerful, lively show and hundreds of ARTSReach kids spontaneously started "jumping for joy" in unison. Kenny Loggins sang "Danny's Song" and hundreds of audience members tried really hard not to sing along... but we couldn't help ourselves! I also love all of the student productions.
What is your favorite aspect of your job?
Connecting artists with new fans. There is nothing better than coming out of the theatre after an amazing show and engaging with our patrons.
Why do you think the arts are important? What value do they provide to the culture?
We need inspiration, beauty, joy, and wonder. The arts remind us what it means to be human.
How have you been keeping yourself entertained during quarantine?
I've been keeping tabs on all of our favorite artists, and enjoying lots of home concerts! I've also been baking pies (my favorite stress reliever).
To learn more about the Center for the Arts staff members and for updates on our 2020–2021 season, please visit our website or follow us on Facebook, Instagram, and Twitter.