Staff Profiles – Stewart O'Rourke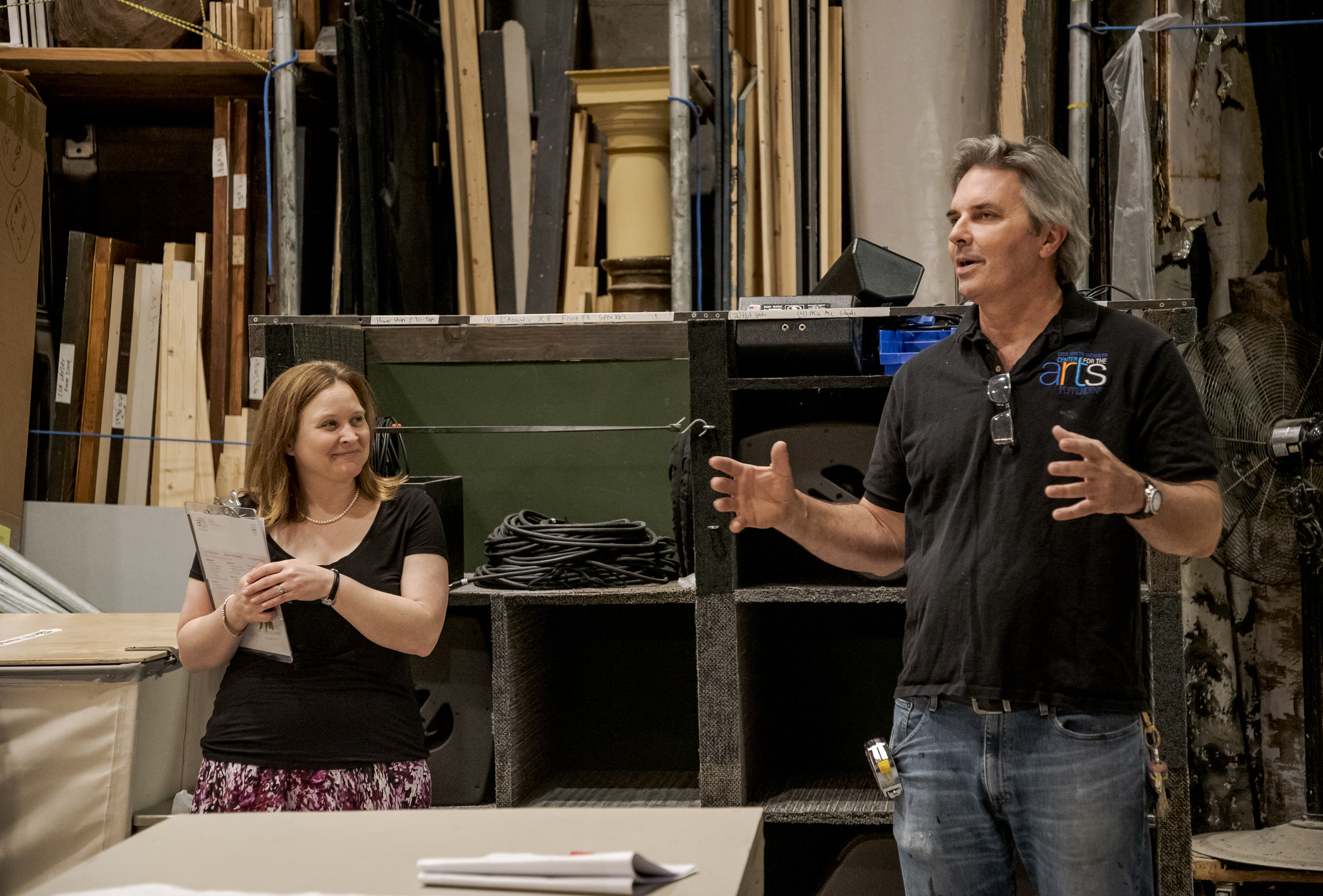 This week our staff spotlight is on the Scene Shop Foreman for the Center for the Arts, Stewart O'Rourke. Be sure to check out his customized playlist below his profile!
How long have you worked at Center for the Arts?
I have had a long career at Center for the Arts. From 1985–1991 I was a back and front of house student worker, from 1991–1998 I worked as support staff for the Weisman Museum, from 2000–2003 I served as Master Carpenter, and I've been CFA's Scene Shop Foreman since 2003.
Please provide a short description of the responsibilities of your position.
I teach Pepperdine's student carpenters about the art of stage carpentry. I build out the five Fine Arts productions each year (on time and on budget), as well as install and de-install the same five productions into the various stage spaces. I keep the scene shop safe and orderly, repair and maintain all shop tools and machinery and various backstage elements in both the Lindhurst and Smothers venues, and maintain and organize all the stage props and stage furniture. I also teach the Basic Stagecraft course during the spring semester.
Please describe your arts background (education, prior arts-related jobs, etc.).
My BA is from Pepperdine in directing. My post-grad degree is from Mountview Conservatory in London, England in acting. I have worked for over 12 years as an art installer both with Pepperdine and other small Southern California museums and private collectors. I was a stage hand at the Los Angeles Theatre Center back in the early 1990s, I co-directed the Edinburgh Program for the Pepperdine University Theatre department from 2000–2006, and I directed four productions for the Edinburgh Fringe Festival.
What is your favorite artist/production/exhibition you've seen at Pepperdine?
Dave Brubeck, Patrick Stewart, Hubbard Street Dance, Seattle Repertory Theatre, Pilobolus, Chilhuly, Agnes Pelton, Wayne Thiebaud, Roy Croft.
What is your favorite aspect of your job?
Creating scenery with students, and the simple magic found in basic stagecraft.
Why do you think the arts are important? What value do they provide to the culture?
The arts challenge, lead, and refine the best of the human condition. All the senses can play a part in the expanding of your imagination. The theatre has a smell and a sound and a feeling when the audience is not there. The power and the energy go missing and everything is very solemn and quiet. It reminds me of a photo album that stays quiet when shut, but once its opened life reappears and smiles, laughter, and memory returns.
How have you been keeping yourself entertained during quarantine?
Cleaning and organizing the theatre backstage and the workshops.
To learn more about the Center for the Arts staff members and for updates on our 2020–2021 season, please visit our website or follow us on Facebookand Instagram.