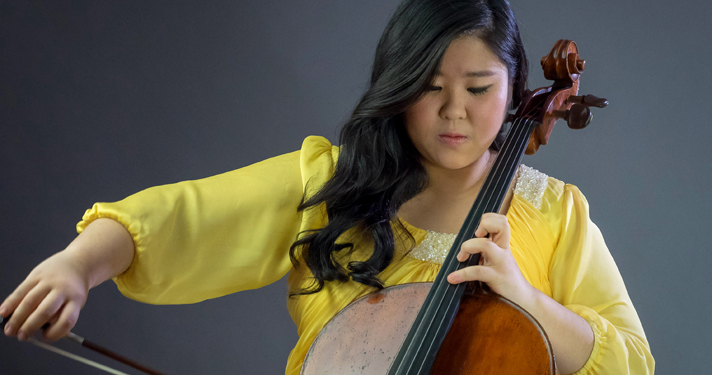 Sang-Eun Lee, Cello
Carlos Avila, piano
Sunday, April 8, 2018 • 2 PM
Part of the Recital Series
As the winner of both the 2014 Young Concert Artists International Auditions and the 2014 YCA Auditions in Seoul, cellist Sang-Eun Lee has been hailed for her expressive artistry and dazzling technique. The Washington Post praised: "she is a prodigiously talented young artist with powerful technique and musical poise." At 15, she won First Prize at the 2009 Johansen International Competition in Washington, DC, and the Young Musician Prize of the Emanuel Feuermann Competition in Berlin.
Lee's Setlist:
Robert Schumann - Adagio and Allegro for cello and piano, Op. 70
George Crumb - Sonata for Solo Cello
Fantasia Tema Pastorae Con Variazioni Toccata
Claude Debussy - Cello Sonata in D Minor, L. 144
Prologue. Lent Sérénade. Modérément animé Finale. Animé
-INTERMISSION-
Frédéric Chopin - Sonata in G Minor, Op. 65
Allegro moderato
Scherzo. Allegro con brio
Largo
Finale. Allegro
Program subject to change
Date
Sunday, April 8, 2018 • 2 PM
Contact Us
Box Office
Lisa Smith Wengler Center for the Arts
24255 Pacific Coast Highway
Malibu, CA 90263
Open Tuesday through Friday, noon to 5 PM,
and two hours prior to most performances.