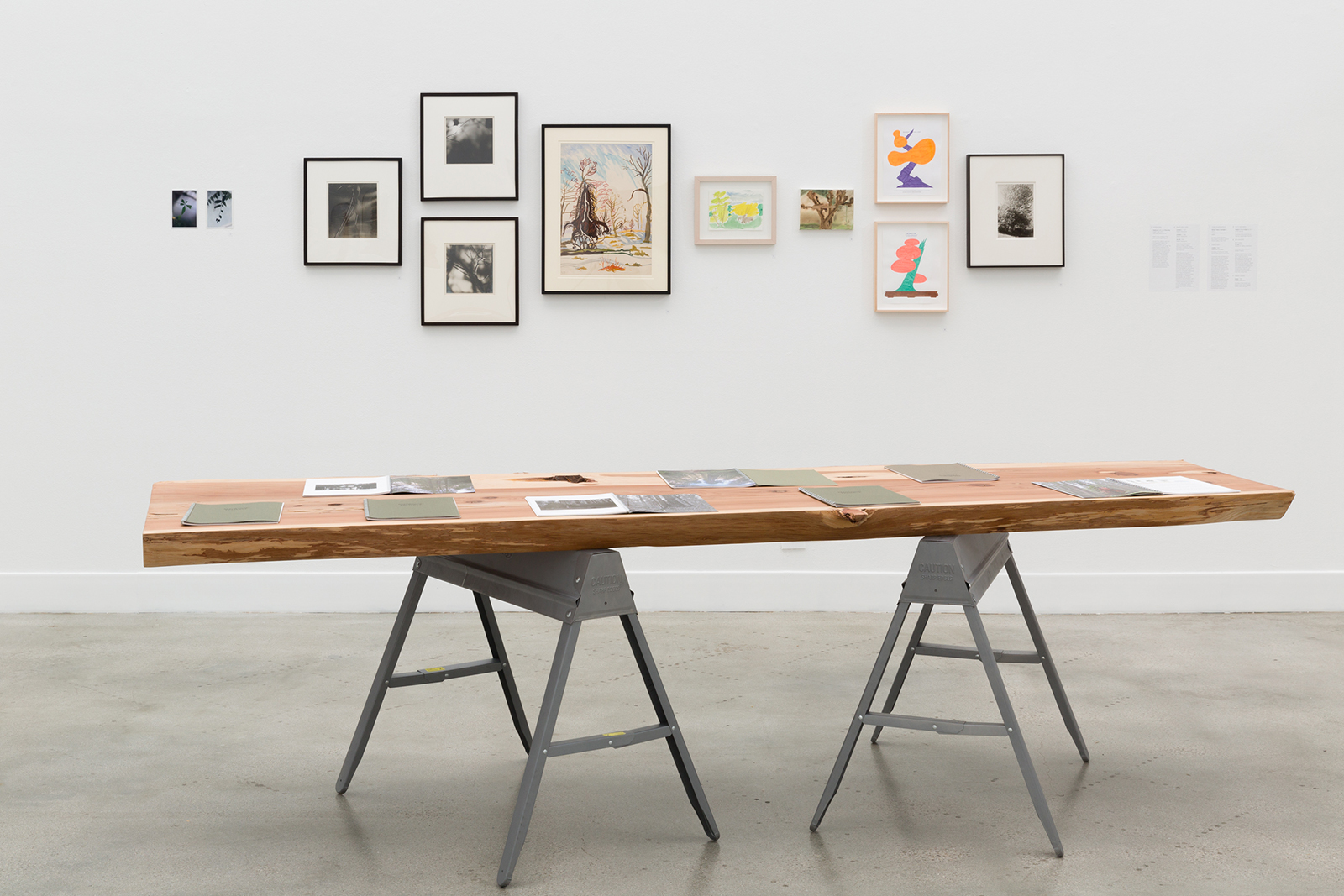 To Bough and To Bend
Tuesday, August 30, 2022–Sunday, March 26, 2023
Trees feature prominently in the origin stories of many world religions. Ancient history recounts how their shade and branches have been sites of contemplation, suffering, and renewal. Today, trees still speak: deep root systems form tangled webs of communication, blunt stumps nod to deforestation, and charred limbs attest to fires started by our own hands. First curated by Bridge Projects, a gallery that catalyzes interdisciplinary explorations of contemporary art, spirituality, and religious traditions, To Bough and To Bend explores these ecological issues through the work of 29 artists who look to religious and historic art practices to guide us back into fellowship with these old friends and the living world we share.
Public Programs
Wednesday, January 25 at Noon: Gallery Talk with Tim Hawkinson and Patty Wickman
Please join us for a gallery talk with Los Angeles-based artists Tim Hawkinson and Patty Wickman, whose works are on view in the exhibition To Bough and To Bend.
Tim Hawkinson's idiosyncratic creations are meditations on nature, machines, mortality, the body, and human consciousness. In his work, he creates unlikely and thought-provoking associations by transforming common materials into works of art. Patty Wickman paints representational images that investigate the role of spirituality in contemporary life. Her work ranges from still lifes to domestic suburban scenes and explores the intersection of the natural and the supernatural, the epic and the everyday, and collapses the distance between the vision and the visionary.
This talk will begin in the Weisman Museum of Art at noon. The discussion will last roughly an hour, including audience Q&A. Free to the public, no registration required.
Thursday, November 10 at 10 AM: Hierotopia: The Spirituality And Ecology Of Ethiopian Church Forests
with Kieran Dodds, Dr. Margaret Lowman, and Dr. Alemayehu Wassie Eshete
Please join us for an online roundtable discussion focused on the spiritual and ecological significance of Ethiopian church forests. In the last 100 years, over 90% of Ethiopia's forests have been lost to drought and deforestation. Yet in the area east of Lake Tana, the shady canopies of the Ethiopian Orthodox church are scattered like arbors across the arid landscape. The religious significance of these forests is equalled by their ecological function, nourishing environments far beyond their walled boundaries.
In this roundtable discussion, we invite you to learn from photographer Kieran Dodds, who, with the support of the Royal Photographic Society and in collaboration with the Ethiopian Orthodox Tewahedo Church, has extensively documented these churches and their communities. He will be joined by Dr. Margaret Lowman, a leading pioneer in the development of forest canopy science; and Dr. Alemayehu Wassie Eshete, who has over three decades of forestry, ecology, and conservation experience from within Ethiopian government offices.
This discussion will be held exclusively online via Zoom. Register here for the link
Wednesday, November 2 at 12:30 PM: Redwood Preserve: A Roundtable Discussion On Ecology And Social Practice
with Jarrett Mellenbruch, Julia Christensen, and Sarah Loyer
Please join us for a roundtable discussion focused on the role that socially-engaged art can play in creating new technological and economic conditions to help repair our relationship with the environment.
On view in the current exhibition To Bough and To Bend, Jarrett Mellenbruch's Redwood Preserve invites viewers to gather around a recovered redwood table to imagine how digital platforms might be used to protect California's wilderness. Rooted in environmental science, conservation, game theory, blockchain technology, and cryptocurrency, Redwood Preserve seeks to foster the creation of a new paradigm that properly values ecology and seeks to reverse catastrophic environmental degradation. For this panel discussion, Mellenbruch will be joined by artist and writer Julia Christensen, whose Space Song Foundation is designing tree-based tech for long-term space missions; and Broad Museum curator Sarah Loyer, who is organizing a new iteration of the famed ecological artwork 7000 Oaks for the next cycle of Pacific Standard Time.
This discussion will begin in the Surfboard Room in Payson Library at 12:30pm. The discussion will last roughly an hour, including audience Q&A. No registration required.
Saturday, October 29 at 11 AM: Downtown LA Lynching Tour with Artist Ken Gonzales-Day
Please join us for an artist-led walking tour around historical sites in downtown Los Angeles to learn about the history of lynching in California.
In the early 2000s, Los Angeles-based artist Ken Gonzales-Day, whose work is included in To Bough and To Bend, embarked on an extensive eight-year project to research and document confirmed lynching sites in California, culminating in his book Lynching in the West: 1850–1935 and his photographic series Searching for California's Hang Trees. By documenting the "witness trees" and the environs central to these crimes, the artist offers a "physical testimony" of the more than 350 lynching cases in California between 1850 and 1935, uncovering a dark, often overlooked past that sheds light on ongoing racial struggles in America.
This tour will begin at Union Station at 11 AM. Tour will depart at 11:15 AM and the duration is approximately 1 hour, ending at Olvera Street, followed by lunch.
Register for this free event here: Bridge Projects
Image: Installation view of To Bough and To Bend, Weisman Museum of Art, 2022. Photo: Ian Byers-Gamber.
Date
Tuesday, August 30, 2022–Sunday, March 26, 2023
Venue
Frederick R. Weisman Museum of Art
Frederick R. Weisman Museum of Art
Open Tuesday–Sunday, 11 AM–5 PM
and one hour prior to most shows through intermission
Free Admission