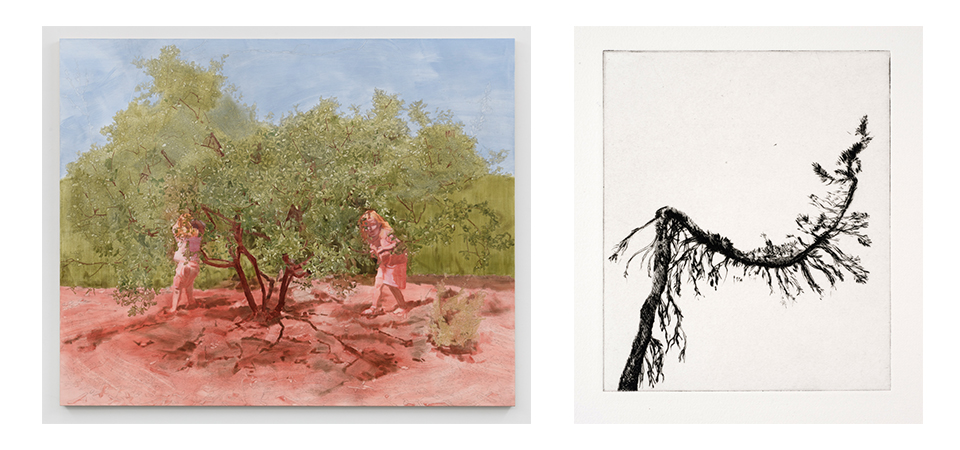 To Bough and To Bend
Tuesday, August 30–Sunday, March 26, 2023
Trees feature prominently in the origin stories of many world religions. Ancient history recounts how their shade and branches have been sites of contemplation, suffering, and renewal. Today, trees still speak: deep root systems form tangled webs of communication, blunt stumps nod to deforestation, and charred limbs attest to fires started by our own hands. First curated by Bridge Projects, a gallery that catalyzes interdisciplinary explorations of contemporary art, spirituality, and religious traditions, To Bough and to Bend explores these ecological issues through the work of 30 artists who look to religious and historic art practices to guide us back into fellowship with these old friends and the living world we share.
Artwork:
Left: Patty Wickman, Circumscribe, 2017-2019, oil on linen. Courtesy of Bridge Projects.
Right: Lucas Reiner, Station XI - Crucifixion, 2010, drypoint, aquatint, spitbite, and etching on paper, from a portfolio of 15 prints. Courtesy of Bridge Projects.
Date
Tuesday, August 30–Sunday, March 26, 2023
Venue
Frederick R. Weisman Museum of Art