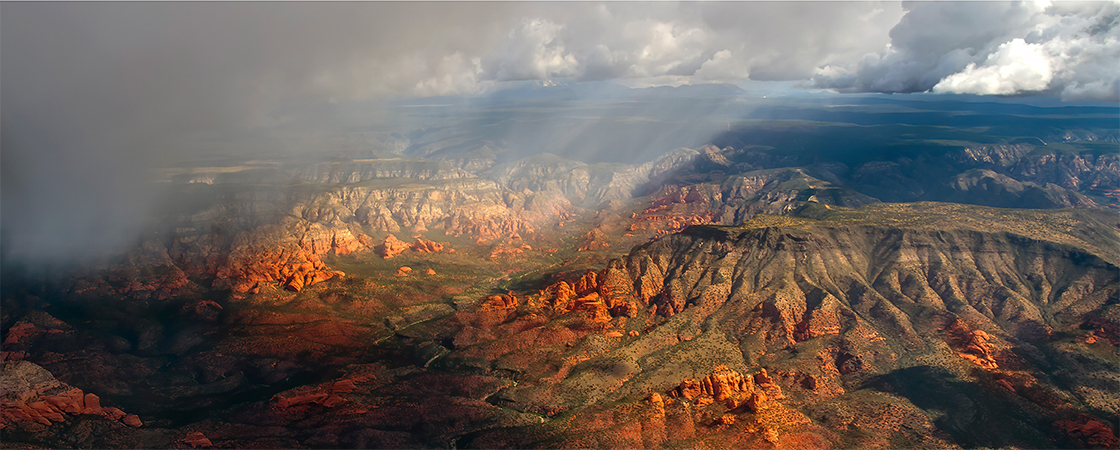 An Evening with Ted Grussing: The Wonders of Sedona and Northern Arizona
Friday, September 22, 2023 • 7:30 PM
Celebrate our Pepperdine community's talents and connect with nature-inspired art from Arizona to Iceland at the Lisa Smith Wengler Center for the Arts' season kickoff. Take the evening to immerse yourself in the latest in arts and culture at Pepperdine and hear from experts about the unique landscapes and experiences that shaped their collections.
6 PM: Food Trucks
Snag a snack before the show at two of LA's favorite food trucks: Steamin Burger & Creamy Boys. Don't fret if you can't make it early; the trucks will serve tasty treats until 9:30 PM.
6:30 PM: The Music Man
Hear an exclusive live preview from the cast of the upcoming Pepperdine Theatre fall musical, The Music Man, playing in November 2023.
6:45 PM: Special Museum Tour
Experience the riveting works of Hildur Ásgeirsdóttir Jónsson: Infinite Space, Sublime Horizons with Museum Director Andrea Gyorody in an inspiring guided tour of the latest mind-bending exhibition at the Fredrick R. Weisman Museum of Art.
7:30 PM: Showtime with Ted Grussing
Capping off our evening with Ted Grussing's (JD '74) immersive photography, see the wonders of Sedona and Northern Arizona—the volcanoes, mountains, red rock canyons, and rivers to intimate wildlife moments—as captured through his lens.
Date
Friday, September 22, 2023 • 7:30 PM
Contact Us
Box Office
Lisa Smith Wengler Center for the Arts
24255 Pacific Coast Highway
Malibu, CA 90263
Open Tuesday through Friday, noon to 5 PM,
and two hours prior to most performances.